Report
Written by Hicks for Push'n'Pop

The average CPC scener is a strange guy: he travels in France from west to east and north to south to join 30 people meetings but never goes to the hundreds of people multi-platform parties. Dozens of meetings, thousands of kilometers from Coutances to Catenoy, and from Segré to Bassoues, but no party! How the CPC scene could it dance around its navel all these years, when the place to be was Bingen am Rhein? You guessed it: CPC scene is an old woman, much interested in comfortable habits and senile talks. Autism beared its fruits, and there were worm-eaten. For decency reasons, I prefer to say nothing about the name of the fruits that I mentioned.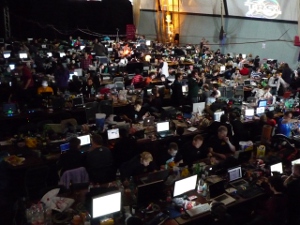 However, and as the story always tought us, there are still some CPC users who are resisting. They decided this year to converge to the same place from Friday 2nd to Monday 5th of April, Bingen am Rhein, Germany. It was about time, because this year seems to be the last Breakpoint! For the 8th consecutive year, about 1000 demosceners from all over the world are ready to have a 72 non-stop hours of demomaking immersion. On the CPC side, 3 cars were launched: OffseT, Zik and Grim from the south, Supersly and PulkoMandy from the west, and Beb and I from the east. Toms will come on Sunday.

So, here we go! We arrived the first day, some hours after the doors opening, and everybody seemed to be here since a long time. Thousand people working on PC (big majority), Amiga, and Commodore 64 at the same place is an impressive vision! But where are the other CPC sceners? Near the entry? No, this place was the hardest to take, since it's the closest from the beer stand! Go ahead Maybe at the back on the right? Impossible, the "C64"? flag is here and they project on the wall their personal movies and demoshow. Take a look at the back on the left Oh yes! Grim's and OffseT's hands are shaking up! The whole CPC team is here, Grim, OffseT, Zik, PulkoMandy, Supersly, even Rouquemoute, who is just in front of us with the French FRequency crew (3rd at the PC 4k compo), and Exin is sitting with us, trying to burst the Atari XE graphical limits by putting much colors thanks to a PC tool. Our neighbours were the coder of TGGC (winner of the PC 64k compo), and Grx (coder of PandaCube, 3rd at the PC demo compo). Farther we could see Blueberry from Loonies (winner of the 4k Amiga compo), and on the left, Metalvotze a well known group working on Vectrex, using their own projector to display sometimes pictures that we could qualify as in fact I prefer not to qualify them! First on the unofficial "Bad taste" compo to my mind!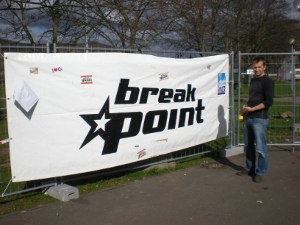 Friday was a quite quiet day. No compos were planed, but the deadline of some of them was fixed at 10p.m. Not a problem for Supersly, who decided to participate to the "Freesyle graphics" with a picture for CPC green monitor in the same way than Climax G. For Zik, the task was much complicated. He decided to submit a song for the "Executable music (oldschool)" during the journey to Bingen. Not a problem for such an experimented and talented musician, you could think Of course, but just think that the song uses an unfinished version of the Soundtracker DMA, it will become much clear! The first task of Zik was to implement the new options used by the song, and then, to compose the music with the upgraded version. He spent a lot of time doing this in the car and in the hotel, and all worked fine. But to participate to the compo, he had to give an OGG record and the executable thing on the real machine but the player wasn't able to play the song! So Zik and Grim tried to put on the 32kb limit size ALL the Soundtracker DMA, in order to execute the song with the tracker, and not with an external player. They reached it few time before the deadline, and involuntary released for the first time a preview version of the Soundtracker DMA!

The same day, we discovered the power of the Breakpoint's sound system. I don't know if they lowered the volume the next days or if we became deaf, but the first hours were very hard to endure. Lot of popular PC demos were shown on the 75 square meters big screen, as Masagin/Farbrausch&Neuro, Stargazer/Andromeda&Orb, Lifeforce/ASD, or Debris/Farbrausch, while we were trying to discuss or coding some stuff. After this, the silence was short, because the BASS band started their live concert at 11p.m. Truck, the Scene Awards event director and faithful Amiga warrior, was on the vocals, and the metal style put a great energy in the hall, with covers of Motorhead (Ace of Spades) or Black Sabbath (Paranoïd).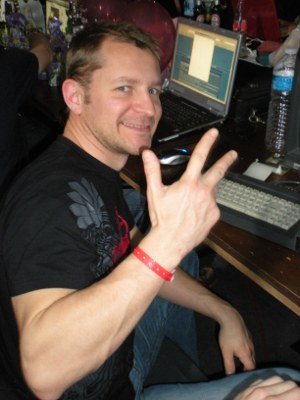 The night is always a nice moment for meetings, much calm and favorable for concentration. But? What's happening?! Why are OffseT, Zik, and Grim carrying their bags? To go to the hotel?! At 2a.m.?! What a shame! And Supersly is following them leaving his copilot PulkoMandy with Beb and I in the meeting room. A pity, but an occasion to Beb and I to work together on the next Vanity project all the night. He started a new gfx, and after some hours of work, nearly finished it when I was improving an "internal use only" tool. I don't remember exactly what Pulko did this night, maybe MO5 hacking, Caprice Reloaded improvement, or something else. The night was long and fruitful, with coffee to help us. But as we are only mortals, we finished by sleeping in calm thanks to the OffseT's team hotel room from 2p.m. to 8p.m., and involuntary failed to see Supersly graphic in the Freestyle graphics compo.

We were back for the Scene Awards ceremony. As you maybe know, From Scratch was nominated in the Public Choice category, the first time ever for a CPC demo! Suspense was short, since the ceremony started by showing this category: a screenshot of the demos from position #20 to #6 was showed, then an extract of 15 seconds from the #5 to #2, and the first was showed one minute. And the winner is ASD with Rupture! From Scratch finally reached the 3rd place. It was really strange to be just between Elevated/TBC&RGBA and Jesus Christ Motocross/Nature&Traktor, two blockbusters on PC and Amiga! Then the ceremony went on its way (you can see the results here). I wish the next year a CPC demo will be nominated in the oldschool category, as a challenger in front of the Commodore 64, ZX Spectrum or MSX! You want competition? So what are you waiting for release a demo and challenge the others 8 bits computers?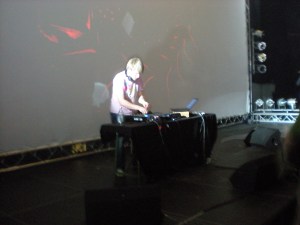 Before the night compos, Ronny/Farbrausch provided a nice DJ set. The ecstatic crowd started to dance in front of the stage, then on the stage, with stroboscopic lights and smoke stuff. Breakpoint became a real disco hall! An electric atmosphere and a great moment to work on our CPC until the 4k and 64k compos. The nice idea was go to the second stage to have a nice view of the incoming compos. C64 4k compo wasn't convincing, and only the Ikadalawampu from Loonies was impressive on Amiga. PC 4k were better, especially Darwinism/Archee and Mistrace/TBC (recycled code from Untraceable, but only 1k!). Back to our CPC, a curious surprise was waiting for us: the Metavotze group, on our left, decided to watch a German porn movie, with a very loud volume! It was the first time I used DAMS with such a soundtrack. Funny at the beginning, boring after 2 hours! According to my German next-door neighbour, the talk content (in German) was the main amusing attraction. The next day, Metavotze went farther by showing a very special slideshow on the wall, during the PC demoshow. Everybody will be haunted by theses pictures for a long!

I didn't speak of the "organizing aspect" of the party. All was really perfect. Outdoor, there were different shops, selling different food and drinks for cheap. Then we could eat on a table outdoor, under a warm tent, or near our CPCs. Anyone knows that in Germany water is beer, and here is another confirmation! Everybody was drinking beer during 72 hours, night and day! But it was absolutely not a problem, everybody was very cool and nobody crossed over the limit. There was also a bonfire outdoor, giving a convivial ambiance all the night. For those who are attentive to the sleeping question, once again, there were many possibilities: Breakpoint team proposed discounted hotel rooms (50% off) near the party, or you could also sleep around the hall (night was quite calm). Another solution was to sleep under your table, a very nice compromise I experienced two nights, without any problem! Beb and Pulko did the same, and they are still alive. Then I'd like to say: forget all your preconceptions against the big parties, it's neither messy nor dirty! Managing 1000 people (not 30!) in these conditions is a real exploit, only possible with this experimented organizing team and respectful people.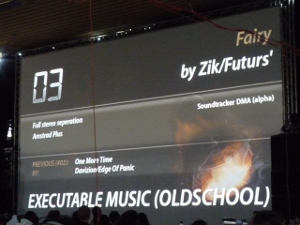 On Sunday morning, Toms arrived before the OffseT's team came back from the hotel. This day was an important one, rich of events. First compo started at 12a.m. and the last was at 2a.m.! Zik's music has been played at 2p.m., and it was amazing to heard such a nice AY music on this massive sound system. The song itself provided very accurate sampled drums and made an intelligent and subtle use of the SID voices. Very refreshing in the global techno mood! The next important event was the C64 compo, at 6p.m. Every CPC sceners were waiting for it and we took the best place to watch it on the second stage. More you are waiting for something, more you take risk to be disappointed. Only Snapshot/Glance (winner) was really cool, with some interesting ideas. Maybe the Wild/Console compo will be better? A huge compo, with more than twenty entries, and a lot of bad or average ones. But one more time, interesting things to see, from Crest and Metavotze (no porn this time!), for example.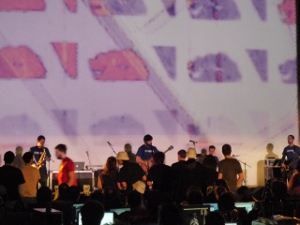 Some of you maybe remember the memorable live show of the Commodore 64 cover band named Press Play On Tape, in the 2007 edition (if not, look at here). This time, it was UltraSound who played a great selection of demo soundtracks from PC and Amiiiiiigaaaaa. Their motto is: "You make the demo, and we play it!". In a really friendly mood, they invited some well known demosceners to go on the stage as guest on some tracks. I especially remember the thundering start on Variform/Kewlers (Mel Funktion and Little Bitchard), the subtle interpretation of Ocean Machine/TBL (Yolk) with saxophone and trumpet ("La moutarde, c'est fort !"), then they switched to a crude punk rock style with Jesus Christ Motocross/Nature&Traktor (Esau) featuring Truck on the vocals, or the 1995 by Kewlers&MFX (Little Bitchard), to finish on a superb cover of Elevated/TBC (Puryx) with the help of the public. We can also mention the funny and surprising intervention of Kb/Farbrausch, simulating a scandal, and the participation of Reed/Fairlight on the keyboard.

A perfect start for this last evening! The two biggest compos of the Breakpoint followed: "Amiga demo" and "PC demo". I was mostly interested by the first one, so I can't really talk about the second. This year, a lot of big Amiga groups were present, and we saw a lot of nice things, but the level was lower than the past years to my mind: Nature&Traktor presented Garden Variety Autobulk (same spirit that SGV and JCMX, public seemed to be bored this time), Haujobb showed Prototype 1, and Elude Come in Peace (winner!). The great novel was the comeback of Ozone with Fetish 2, after 11 years of non activity. The perpetual zoom in the demo of Tulou was also very nice. Then the PC compo started and the winner is Fairlight, with an innovative 3D renderer engine!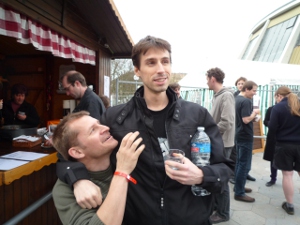 The last day was the results day. We were curious about all the results, of course, but especially the Executable music (oldschool) and Freestyle graphics. Supersly finished 13th out of 18 with Soleil Vert, and Zik finished 11th out of 16, and I think it's a bit disappointing. The winners of each category were invited to go on the stage, to tell the public something, and received a present from the Breakpoint organizing team. They finally asked to all the people who made much than 1000 kilometers to go on the stage, and one of them was coming from Japan! With almost 15 hours of plane, he was only second behind Supersly and PulkoMandy with their 16 hours of car from Rennes! They deserved the "Kilometers Award"!

It's already time to leave for Toms, and almost the end of the party. Time goes by too fast at Breakpoint! Nobody wants to sleep after these great and motivating events, even if everybody is tired after these 3 noisy days. Some people went to ask some questions about the CPC, and it was the first time they saw it for most of them! The great majority didn't know anything about the existence and the capacities of a CPC We pay our absence of these parties during all these years! An opportunity to speak with people from other scenes and show them some demos. On the contrary, it's astonishing to see the popularity of the Amiga. Few Amiga computers were present at the party, but the "Amiiiiiigaaaaaaa!!!" screams haunted the whole party from the beginning to the end. Nobody forgot that all really begun with Amiga, it's a nice thing.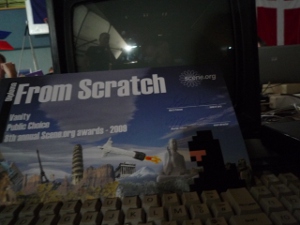 Is it the last Breakpoint, as they announced? Not really. It seems that the same thing as in 2002 will happen: at this time, the organizers of the Mekka&Symposium (born in the reunion of the Mekka party and the Symposium party, in 1996) were a little bit bored to do the same thing since 7 years (from 1997 to 2002), then they decided to let their place to another party in 2003, and then the Breakpoint was born! Eight years after, the staff wants some fresh blood. So, next year, another party will replace the Breakpoint, in the same spirit but with a different staff, so it's finally a great news!

Most of the CPC sceners who came to Breakpoint 2010 agree to say that it was their best meeting ever. Three days of non-stop activity, concerts, shows, Amiiigaaaa!!!, everything in a very friendly atmosphere. At Breakpoint you will never hear "Demomaking is dead", "I only code for myself", or "I don't care about the scene", shortly, all the bullshits we can hear from a lot of ill and dying CPC sceners. Demomaking is alive, and passionate guys always spend their nights doing their demos. Just join us!

Hicks

----------

Written by some Breakpoint visitors for Push'n'Pop

Some people pointed out that CPCscene was quite good, but had a huge problem in the absence of the Trolliner. It caused some troubles in sleeping, depressive mood, and fundamentally changed the essence of the way to use their Amstrad CPC. Aware of this very central and pertinent suggestion, we decided to bring back the Trolliner at Breakpoint 2010. It's dedicated to them.

23h27, 03/04/2010
Hicks: Amiiiiigaaaaaaaa!!!! Pants off!!! Writing live during the Ronny's live mix, which remained me a BIG State of The Art. I believe that German people love LOUD basses!

Beb: You're so fuckin right, man !!! It's a full psychotic show. I'll keep my 9fingers on my keyboard to draw some nice pictures...

OfT: what a shame Vanity didn't win... maybe they need to work harder to compete with the real scene (-; Btw, for the very first time, CPC was there! Thx for that.

Hck: All the pleasure was for us! Vanity got the third place, just between TBC and Nature. No anckles, no demo!

OfT: I'm afraid this place was reachable just because of the massive CPCScene lobbying (-;

Grim: Sitting there at BP is quite nice, enjoying Ronny's live mix right now (I love BASSes! :) Hicks and OffseT are doing weird stuff on a CPC while Supersly flew outside to escape from the loud sounds.

plk: i'm falling asleep but today was a great debug session

Sly: VectreX ruleZZZZ !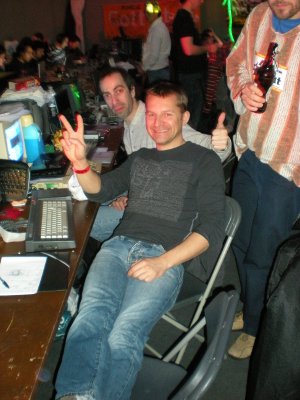 12h30, 04/04/2010
Toms: Just arrived at the Breakpoint, welcomed by Grimmy with a piece of chocolate cake, it's hot! I've discovered a nice graphic made by Beb during last night, but I really wonder where will it be used??? :) I'm happy to see again all these CPC freaks, and now waiting for the compos (especially the executable musics to hear Zik's stuff). See you soon, if my ears are still alive (sound is not enough loud here)...

OfT: Eeeeck! Toms looks with his ears! We knew he was an alien!

Beb: Les gens ont dégout de chiottes !!!

Sly: I wish I could remove my QUIES earplug one day... "Debussy would never have won at the Breakpoint" (Zik)

01h15, 05/04/2010
Beb: Still coding raster graphic ;) The amiga demo competition was cool.
Fetish2/Ozone - most interesting thing. Beautiful and really short.
Elude/We come in peace
Vanity/We cum and Piss! (hopefully)

Toms: I'm happy to announce you the creation of 2 new groups to fight Vanity: Arkos en Morceaux (Sylvestre and Targhan) and Senilanceata (Papy Grimmy and Roumain Duris)

Anonymous: Sappy sa pu lol :) ;)

Toms: Beb definitely prefers Metalvotze slide shows to PC demos.

Beb: Toms definitely prefers waxed chocolate dicks.

Exin: *looks around* Ummmmm.... *looks at azerty keyboard* I hope there will be a follower to "Anstich beim Schweyn" from last year.

Zik: Last compo just finished and now it is time to vote for all the stuff we saw... and then go to sleep. Breakpoint 2010 was a great experience (for us and for the beer dealers of the area I guess).

Unfortunately, due to the absence of the Trolliner lovers at Breakpoint, we finally decided to suspend it until the next party.